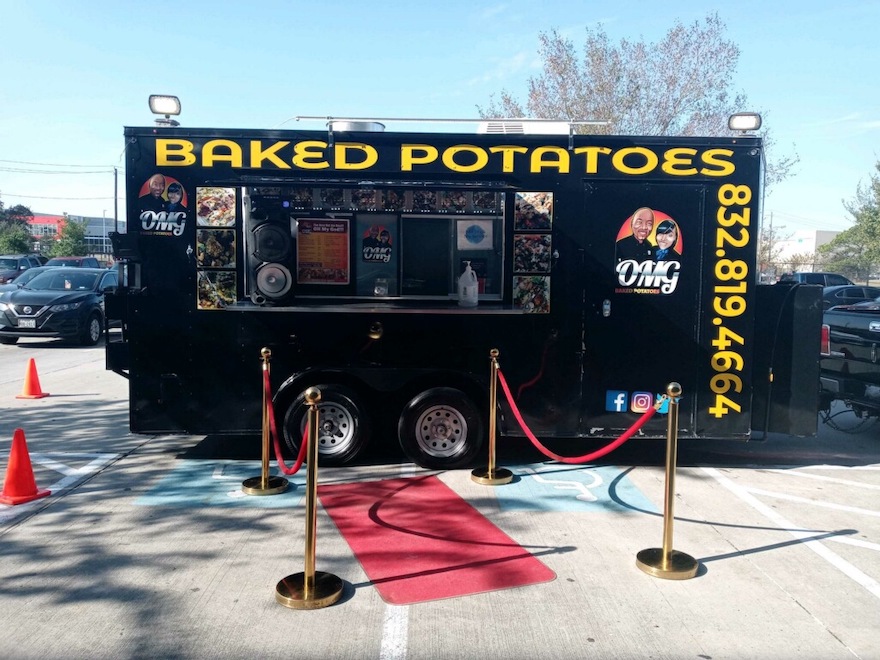 Potatoes! Who doesn't love a carb-a-licious potato in any form?
In recent years, giant baked potatoes stuffed with an entire meal have been popular at barbecue places and ballparks. But it took entrepreneur John James to take this concept to a whole other enormous gourmet level.
It took a while of experimenting, but now James and his wife Ayesha run the popular food truck, OMG Potatoes, in a parking lot at 13815 S. Post Oak Rd. at West Orem in the 5 Corners Improvement District. There is always a long line at any given time of day during its business hours, and customers drive long distances to get an OMG Potatoes meal.
James' story with this concept began after he was laid off from a job he'd had for 20 years. While contemplating his next position, he told Ayesha, who was expecting their first baby, that he wanted to own his own business.
As a sideline, James always enjoyed cooking barbecue, and so he began selling ribs, chicken and other food on the side to co-workers as he began a new job at O'Reilly Auto Parts.
"I'd get up at 4 a.m. and slow-cook the meats every day and put that on potatoes and then bring them to work," James said. "I kept getting more and more orders for food and it became a part time business that I worked on every day, when I got off work and on all of my days off."
So enthusiastic was the response that James decided to expand. He did so by getting business cards made and going to various locations, including beauty and barber shops, and giving samples to the owners.
During the growth of their food business the couple struggled with naming it, but he said the reaction from customers was always "Oh my God, this is so great." And so he decided to name the business OMG Baked Potatoes.
Expanding by purchasing a food truck in 2016, he came to the intersection in 2018. And although he switched sides of the street, the business has been growing and thriving every since. It is now located in the Family Dollar parking lot, which gives him lots of space to have customers line up in their cars to wait for their food, a convenience that became more important ever since the pandemic hit a year ago.
You can't miss the truck as it has a large happy photo mural of James and Ayesha painted on the outside.
An average day sees the couple preparing and selling more than 200 potatoes a day, some days more. He bakes the potatoes, crushes them down, puts butter on them and adds his own unique seasonings and toppings.
"My signature style is that I make my own seasonings for the meats and sometimes I have to go to five to six different stores to get all of them, all organic seasonings and lots of herbs," explained James. "That's one of the reasons my potatoes have such a good taste."
His biggest seller is an enormous shareable one called "Lord Have Mercy" that includes chicken and beef fajita meat, shrimp, crawfish, beef sausage, smoky sauce, three different kinds of bell peppers and topped with three colossal shrimp wrapped in bacon. At $23, it's dinner for two.
His lobster with shrimp baked potato usually sells out in an hour. He includes broccoli and/or asparagus on many potatoes, making them complete meal.
Some drive for hours from far away to get his potatoes topped with his slow-cooked steaks, which include T-bone, rib eye or filet mignon.
"Some come just for the steak, telling me in the the best they ever ate," James said. "I marinate the meats overnight and that makes them real tender."
Be prepared for a bit of a wait as the Jameses make each potato from scratch, and there is always a line of customers no matter what time of day. Joseph uses his sense of humor to ask customers for their patience.
"Now you know you will have to wait for your order," he tells the line of hungry customers on a typical day. "But these are made one at a time, and you can always go get some fast food while you are waiting!"
Joseph is most proud of being chosen as a vendor to prepare food for executives at the Super Bowl in Houston in 2016.
The food truck does business Wednesdays through Sundays from 11 a.m. to 4:30 p.m. but he will usually stay a bit later if he is not sold out.
Prices start at a plain potato for $6.99 all the way to $32 for the filet mignon with shrimp and asparagus. Reviews online justify his prices because of the huge quantity of food.
— by Arlene Nisson Lassin