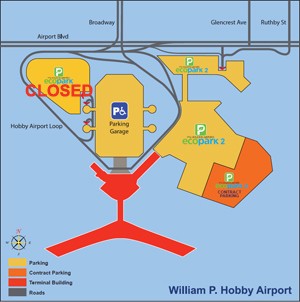 Houston – Beginning on Tuesday, March 18, 2014, the ecopark 1 economy parking lot at William P. Hobby Airport will permanently close in order to make room for both roadway improvements and a new multi-level parking garage
The existing ecopark 1 lot — located directly to the west of the airport's covered parking garage — is closing in order to make room for a permanent parking garage, which will bring an additional 3,000 spaces to the Hobby Airport parking inventory.
These improvements are taking place in anticipation of the arrival of international air service at Hobby Airport. A new 5-gate terminal facility is currently being constructed by Southwest Airlines and is slated for completion in the latter part of 2015. The arrival of regional international air service is expected to generate an additional one million
passengers at Hobby Airport on an annual basis and as a result, steps must be taken to improve the airport's infrastructure to accommodate the increase in passenger traffic.
With the closure of ecopark 1, passengers are now being directed to use ecopark 2 (located to the east and northeast of the covered garage). These parking lots hold more than 1,000 parking spaces and costs only $8 per day. Hobby Airport also offers parking in its terminal parking garage for $19 a day, and a valet parking service with covered parking and additional perks for $25 a day.
All vehicles located at ecopark 1 past March 28 will be relocated to ecopark 2. Customers who need assistance in locating their vehicle can use the courtesy phone at ecopark 2 or call (713) 641-7770.
For more information on Hobby Airport parking services, please visit www.fly2houston.com/HOUParking.