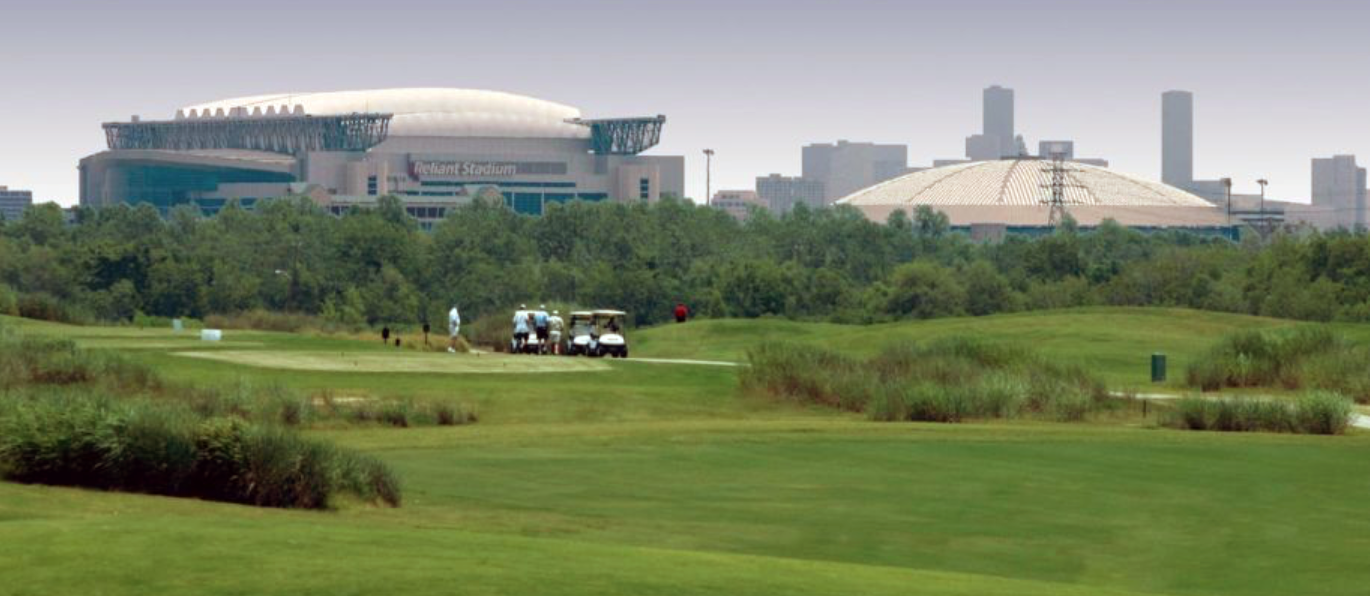 Smack-dab in the middle of the 5 Corners Improvement District and yet a world apart from Houston in general, Wildcat Golf Club has become widely renowned for its panoramic views of the NRG Field complex and the city's multiple skylines, which should come as no surprise as one of the not-quite-snow-capped peaks on its Lakes Course is believed to be the highest point in Harris County.
At 115 feet above sea level you won't need an oxygen mask to survive, but that does tower over the 55-foot Hippie Hill at Miller Outdoor Theatre.
But it's not just the views that have kept golfers coming back since the December 2001 debut of the first of its two 18-hole courses. It's just a great golf course, period. In recent years Wildcat has been ranked seventh by PGA.com for Texas courses open to the public, and first in Greater Houston in the same category by Chron.com (as determined by Yelp reviewers.)
"[A] first-class course that throws a lot of different looks at you, while still being imminently playable," wrote one professional reviewer. "Great conditioning, location and a splendid design make Wildcat a must-play for any visitor [to Houston]," agreed another.
Not bad for what had been a nasty old brownfield just 20-odd years ago. Today Wildcat ranks as perhaps Houston's largest and most tangible and enduring example of recycling, with its shimmering lakes and lush hills now rolling over what a century ago was a hellish landscape, dotted with storage tanks and flares, squeaking and whirring with the pumpjacks of the Rio Bravo Oil Company and some of its competitors. It also stands on part of what used to be the scattered hamlet of Pierce Junction — an oil field camp typical of the era, with scattered shacks for families, barracks for bachelors, and a mess hall for all those roughnecks, pipeliners and tool-pushers.
And for a time, the land was tortured still more. Read on.
Opened for production in February 1921, by the end of that year the Pierce Junction field had produced 1.4 million barrels of oil. By 1938, that number had grown to 32 million. And then, over the years, as they all must, it played out, at least for the most part. Ravaged by the rigors of oil extraction, the land seemed fit for nothing better than a garbage dump, and that is just what it became, and it remained so, under the ownership of Browning-Ferris Industries, from the late 1960s to the end of the '80s, when it was "capped." And then the land just sat there for a decade, neglected. (Or at least that part of that does not still squeak and whir with pumpjacks — as we mentioned, the field is not entirely played out.)
BFI leased the former dump to the current owners just before it was bought out in 1999. BFI's buy-out came amid a concurrent nationwide "garbage-into-gold" trend that found distressed lands transformed into golf courses from coast to coast: In a few years around the turn of the 21st Century, a former Montana strip mine was reborn as the Jack Nicklaus-designed Old Works Golf Course; two New Jersey gravel pits were similarly remade, and Wildcat was one of several to have built atop landfills, including others in Chicago and Atlantic City, N.J. According to one estimate, ten of the 250 golf courses to open in 2002 were built on brownfields.
"I think they will increase. It's putting land that's useless right now into some sort of public use." So said Wildcat's golf architect, the late Roy Case. London-born and a former resident of Jamaica and a specialist in the field of recycled brownfield golf course design. Based in Florida by 2000, Case said that Wildcat and courses like it not only turned eyesores into gems, but also struck blows for what he termed "blue-collar golf, which still needs a lot more golf courses."
By that he meant affordable and open to the public, two of Wildcat's more beloved qualities since its inception. Houstonians also love its location.
"It's in Houston. Really in Houston. Not on the fringe of the corporate limits," wrote Houston Chronicle golf correspondent Eddie Sefko in 2002, shortly after the club opened. Sefko said that — overhauls to the courses at Memorial and Hermann parks courses aside — Wildcat was the closest course to be built close to downtown in almost a half-century. Of the four convenient, open-to-the-public courses, Sefko said Wildcat's Highland's course (the Lakes course had yet to debut) was superior to those of Glenbrook, Hermann, and Gus Wortham, and "every bit as fun and challenging (although pricier) as Memorial — long considered the jewel of close-in golf for Houstonians who can't afford to be a member of River Oaks, Houston Country Club or other private clubs in the city."
So, a blue-ribbon blue-collar golf course. And a challenging one, at least to the young Noah Horwitz. As a student at Emery/Weiner School a decade ago, Horwitz, today a fledgling attorney, joined the golf team to get out of more strenuous forms of P.E.
"It was also co-ed," he says. "Not that it made any difference, but at 16 you try."
Horwitz said the links-style Highlands course was "designed by the devils," but attributes that more to his being bad at golf than any objective difficulty better players could overcome. He has the highest of praise for the facility's practice areas: "I had a blast at the practice pitching area, and they have a wondrously large putting green for practice. I was too bad for the tournaments, so there and the driving range is where I went every day."
Wildcat's name has a double meaning. The cat-scratch logo nods to the obvious — and as such, be on the lookout for the club's unofficial mascot, "Lord Jethro," a bobcat tom, or one of his three wives, all of whom are known to skulk the roughs and dash across the fairways around sundown. The other meaning acknowledges its past and present as a working oil field founded by wildcatters, some of whose detritus and relics remain nearby.
"That was a big debate before we opened the course," former general manager John Saffle told the Chronicle in 2002. "The pumps are all actually in production, so they are there to stay. Some of the storage tanks aren't in use, but we decided to leave them because we're hoping we draw a lot of business visitors from hotels downtown or in the Galleria and we want them to get a feel that this is very much a Texas and Houston golf course. Those tanks are authentic."
Horwitz might have been too modest in downplaying his golf game, as more experienced players have mentioned the difficulty of the two courses. Unless you are prepared to write off your entire first round on either of the par-72 courses as a day-long mulligan, one experienced golfer advised taking your cart ahead on a scouting party before you attacked each hole, as many offer surprises lurking around the corners of blind shots. Nothing a little strategy won't cure…but as the logo promises, both of these 18-hole kittens have claws.
— By John Nova Lomax