I've long held the notion that Houston is not just the largest city in Texas — culturally, it is also the capital of Greater South Louisiana. We share the same climate, the same vegetation, the same crops in our fields and historic African American cattle and cowboy culture. In the last century, South Louisiana natives streamed into Houston singing lala and on exposure to blues and R&B in Frenchtown, created zydeco, which they first took back home to Louisiana and then exported to the world.
And in this analogy, New Orleans is the Athens to Houston's Rome. We are the brash new imperial power now — they are the quaint old city where the native arts flourish and the people know that life is not all work and no play. We look to New Orleans on how to live, and they come here for jobs so that they might either go back home to their proud and utterly unique city or stay in Houston and carry on brightening the lives of Houstonians in ways only New Orleanians can.
Such was the case with Percy "Frenchy" Creuzot, with wife Sallie founder of the Houston fried chicken and Creole cooking empire that bears his name. Upon arrival in Third Ward in 1969, Creuzot sold only the specialties of his hometown — dirty rice, gumbo, jambalaya, hot sausage, po' boys, and red beans and rice, traditionally eaten on Mondays in New Orleans as a sort of cleansing agent for those who might have partied a little too hard over the weekend. In fact, chicken wasn't even in the name when they first opened — the name of the Scott Street flagship was originally Frenchy's Po' Boys.
In some ways, the story of Frenchy's chicken resembles that of Antone's, purveyors of another kind of po' boy. Around the time Creuzot was trying without much success to peddle Creole New Orleans fare to Houstonians unaccustomed to it, Antone was attempting to sell falafel, hummus and kebabs to equally bewildered Houstonians across town. In Antone's case, salvation arrived in the form of those chow-chow and mayo, cold cuts and provolone po' boys found only in Houston; in Creuzot's, it was good old-fashioned fried chicken, cooked New Orleans style. In each case, these served as gateway dishes to the menu items Antone and Creuzot had grown up on.
Frenchy's has had a wild ride. After decades of expansion leading up to a total of 12 area locations in 1987, the Oil Bust and its fallout contracted the chain down to two by 2000: the Scott Street flagship and another in the Third Ward H-E-B. Before that decade was over, the chain was almost back up to ten storefronts when Creuzot passed away in 2010.
Today there are nine locations, including the 5 Corners one on Almeda Rd. Frenchy's Chicken is woven into the fabric of Houston like few other restaurants in the city's history, praised in song by many a rapper and even Beyonce herself. And today's menu would do the New Orleanian in Creuzot proud — there is plenty of fried chicken, to be sure, but also hot sausage and catfish po' boys, fried fish and shrimp platters, jambalaya and dirty rice, and collard greens, rounded out with sweet potato pie and peach cobbler. And also boudin — that delicacy from the prairies between New Orleans and Houston, the great in-between betwixt the Athens and Rome of the fictional Greater South Louisiana.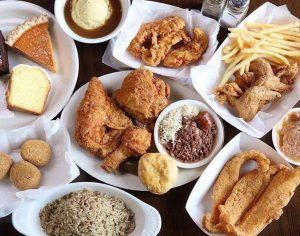 Frenchy's Chicken Almeda
12202 Almeda Rd 77045
713.434.5410