By Christina Autry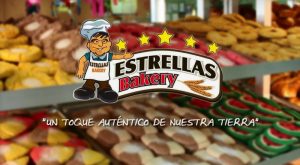 Estrellas Bakery: truly a star in the Five Corners District in terms of quality baked goods for extremely affordable prices. If you're used to paying $3-4 per item at other bakeries, this is the place for you. All twelve baked goods that I collected at Estrellas totaled about $7 at the register. Despite the low prices, taste is not skimped on. The items that I tried are only a fraction of what tempted me from behind the glass in this panaderia, and all were thoroughly enjoyed.
Upon walking in, you follow the same protocol as in any panadería: pick up a round, plastic tray, and make your way around the many shelves of baked goods protected by glass doors. Tongs in each section are provided for you to snag any items that catch your eye.
Estrellas Bakery offers all of the traditional Mexican bready sweets that a panadería aficionado would expect to find, as well as tres leches and other specialty cakes made to order. Not a panadería aficionado yet? Don't worry, piling your tray high with good-looking treats will never be a mistake, especially at these prices.
I started off by grabbing a "concha" (meaning shell), one of the most iconic and recognizable "pan dulces," (sweet breads). It does resemble a bun-like shell, with stripes of icing forming a radiating spiral. The one I got used vanilla-colored icing, though a variety of bright colors are available. I picked up cookies colored to look like the Mexican and Salvadoran flags as they felt like good representatives of the shop.
Like the concha, many of the pastry names are simply a description of their appearance, such as the "cono relleno de crema," a flaky cone-shaped pastry stuffed with cream, the "sandia," (meaning watermelon, as the shape and color of the shortbread cookie resemble), or the circular "ojo," (meaning eye). The small round cinnamon sugar cookies called "hojarasca" are popular in northern Mexico, and are named after crunchy leaves scattered on the ground during Fall.
The biggest surprise for me, not a regular of panaderias, was the "beso" bread. At first I thought this was simply a ball of dough covered in sugar, but upon further inspection, the sphere was actually stuck together in the middle by jam. When I went to cut the bread in half, it came apart easily, revealing the strawberry jam.
The "pan de muerto" grabbed my attention, and it was later that I learned that the raised nubs of bread running down the bun are meant to represent bones. This is a special bread eaten during Dia de los Muertos, to honor loved ones who have passed away.
Next up was the "campechana," a triangle-shaped flat pastry with apple filling, deriving its name from the Mexican city of Campeche. A "cuernitos" croissant, a pumpkin-filled empanada, a "pan de muerto," and a Salvadoran quesadilla (corn cake) found their way onto my tray before I finally hung up my tongs.
For those familiar with Mexican baked goods, you're sure to be satisfied – and those less familiar will be pleasantly surprised. Do your family or friends a favor and grab a variety of sweet treats next time you're in the Five Corners District. Their 6AM-10PM hours every day will give you the opportunity to squeeze in a pan dulce run before or after work. Even if next time is your first time to Estrellas Bakery, it definitely won't be your last.
Estrellas Bakery
14023 S Post Oak Rd, Houston, TX 77045