Celebrating 10 years in business — with the second half of that time in the 5 Corners District — Asher Kazmann is excited about building up the human element of Locke Solutions, which designs and manufactures precast concrete products for industrial and heavy commercial use.
Kazmann is president of Locke Solutions, which builds a lot of things you aren't likely to ever see: specialized structures for underground drainage or for accommodating the networks of power cables and communication lines that make modern life possible. But it's the people part of the business that keeps his interest.
"It's not about the product. It's about the people," he said.
"We're good at concrete. We know that. That's what we do. That's the means for us to build a continuing business, but the reason we're doing it is for the people — it's for these customers of ours — it's for our co-workers — that's why we're doing it. The community is the people."
The company employs 102 people directly and 14 more through a staffing agency.
"For me personally and for a lot of people here, I want to come into work, and I want to enjoy what I'm doing," Kanzmann said. "I want to enjoy the people I'm with. I want to enjoy the environment I'm around. I'm going to spend the majority of my time here with these people — I want it to be enjoyable."
Kanzmann started the company Jan. 2, 2013, in a leased warehouse near Hobby Airport.
"We started there, and we were there for five years before we moved into this location here at 5 Corners. We actually purchased this property and built this facility."
The location is 700 Almeda Genoa Road, close to downtown and Port Houston, with easy access to freeways, Kanzmann said. Also, it's close enough to the previous location that it didn't lengthen too many employee commutes.
Another benefit of the location, Kazmann said, is that potential workers live in residential neighborhoods nearby.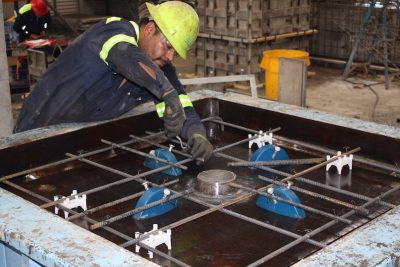 The company specializes in work that requires custom engineering, with many of their products having to accommodate heavy or unusual loads, not just what would be typical for highway or commercial construction, he explained. So its products get used frequently at port facilities, airports and chemical plants. Typically, they are sold to contractors or subcontractors.
"We do very engineered products," he said. A lot of pre-casters do the same product over and over again. We're the guys that are willing to design and build the one-off."
Most of the products are used in the Houston region, but some are trucked to customers across the country or shipped around the world. Recently, he said, Locke Solutions built precast concrete items used in warehouses for Amazon; one in Washington state and another in Florida. The most distant customer has been a project shipped to Diego Garcia, an island in the Indian Ocean.
One recent unusual job was for a civic art project in Austin.
"A group of artists had this idea, I think they called it The Flying Carpet, that had three concrete columns they were looking to get engineered and built for them, and we worked with them and did that. It was a fun project; it was unique. Not many of our products are above ground."
"I want this to be more than just a job or even a career. I want [employees] to come here and be challenged intellectually and be fulfilled so they feel like they're actually accomplishing something every day," Kazmann said.
To promote the work culture, the company maintains an active social media presence and engages with faculty and students from the University of Houston and the Texas A&M construction management program. Recently he met teachers from nearby Madison High School and hopes to arrange field trips for some of its students.
Locke Solutions
www.lockesolutions.com
832-804-7071
Facebook: Locke Solutions
Instagram: LockeHTX
— by Mark Fleming